It all begun with one simple idea: what if one player can become a beast, and the other player is able to ride on the transformed player's back – working together as a sort of a cavalry team?
Coridden started as a small passion project by two people, and slowly evolved to what it is today: a co-op action RPG where you can shapeshift into various beasts and explore a sci-fi fantasy world on a adventure to save your homeplanet from a slumbering threat.
We love playing all kind of co-op games together and with friends, and we've always been on the lookout for more co-op games. We found that implementing this co-op idea into a top-down action RPG made into a really fun concept, and together with the shapeshifting gameplay gives a fresh and unique take on this genre. 
Now we want to take the next steps, show you our beloved project and hope you want to join us on this grand journey! 
Running a Kickstarter campaign requires a great deal of work, but we feel it is worth taking the risk of running a crowdfunding campaign for three main reasons:

Validate the Game Vision
We have a strong vision and are creating a game we know we would love ourselves – but we need to know if YOU want to have this game made! By pledging any amount we know that we're envisioning something not only for ourselves to enjoy. If it proves to be the other way around, we'll have to take a long hard look at what we can do differently to make the game attractive to you.

Raise Funds to Complete the Game
So far we've been putting in our own funds and unpaid time to move this project forward, working side jobs to make ends meet. We think it's too much to ask you to fund the whole project, but if we can reach our campaign goal and get that partial funding, we can complete the budget with our own resources to make sure that the game gets out to you! Every penny counts, as that would enable us to add more content and increase the level of polish, to create an even better game.

Developing Together with You
Showcasing at local and digital events have always been a great joy for us, and the feedback we get is invaluable. But these events are few and as we're approaching a more complete game, we'd love to have that feedback and engagement more continuously and directly from you. We believe that close collaboration with the community will benefit the game a lot, and hope as many as possible want to help make this game as great as it can be!
So, what's in it for you backing our project? Why take the risk to back a campaign, and not just wait to get the game when it releases?
There are several advantages for you backing Coridden we hope you'll like! We want to offer exclusive content for you as a backer and you will be able to get access to the game before anyone else. Also you'll get the chance to in a whole other way become a part of the game, not only affect its development, but also leave your mark in the game world forever if you want! Some of the rewards we are planning to offer beyond the game are:
Your name in the credits
Exclusive creature skins
Beta access
Design a creature variation with us
If there is something you'd like to see in the rewards, let us know, and we'll do our best to make it an option!
We understand that there is a risk to back a project made by a fresh studio with no precious released titles. We are FULLY committed to making this game no matter what odds, we have been working for a long time already and we're providing you a fully playable demo to show you that we're ambitious and serious about getting this project finished. We have a very good gamedev-community, coaches and contacts around us making sure we're not alone in the dev-side of our journey. We're confident that these conditions combined with your continuous feedback and ideas will make Coridden the great adventure we dream of making!
Also, if you're a fan of co-op games like us, by supporting us now you give us the long term motivation and trust to continue our journey beyond Coridden, to give you more great games in the future. 
We are proud over being diverse team with great passion for games, and even though not having released a title yet, most of us have now several years of game-making experience! With our strong will, patience and openness we believe we can make this project a fun, exciting and bonding experience for all adventure hungry couples and friends. We are primarily working remotely, our teams members are located in Linköping and Stockholm in Sweden. As our studio doesn't have any income or funding yet, we work side-jobs and live on savings for the time being!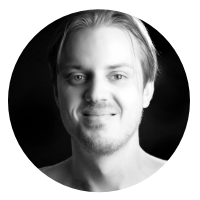 Valle (Valdemar) Tove
Co-founder, Designer, Programmer, Animator